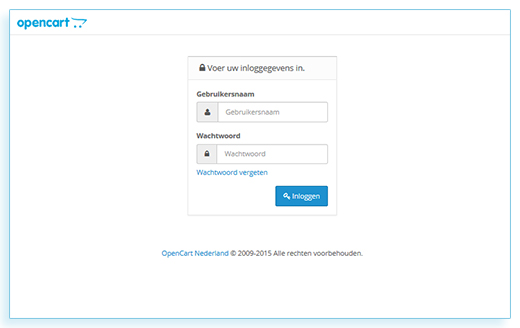 OpenCart is a user-friendly system for your web store. In no time you put a professional store online, with many payment options such as PayPal and iDEAL. The management of products, orders and customers (groups) is organized clearly. You also benefit from a wide range of extensions and modules. There is a choice of many beautiful templates, free or for a small amount. Because you can create an unlimited number of information pages, you can also use your webshop as a website.

OpenCart working method
Open Web Creations offers 2 options for designing your website. The 'Basic Website' is in many cases an excellent choice. You can choose from one of the many available templates (a template determines how your website will look like) and this will be adapted to your wishes and the corporate identity of your company.
It is also possible to make an individual design for your website. An individual design is a step beyond your website. It's important to look at what your business stands for, what you would like to render with your website or other media. Through various consultations we'll get the right design.
Functionality
Open Source
Documentation
Multiple languages
Multiple currencies
Multiple tax rates
Many templates
Many extensions
Unlimited number of pages
Unlimited number of categories
Unlimited number of products
Unlimited number of manufacturers
Fits images automatically
Discount Coupons Program
Weight calculation
Product Reviews
Related products
Downloadable products
Backup and restore
PDF invoices
Sales reports

OpenCart extensions
Of course, OpenCart in default installation is already complete, but what makes OpenCart so special is that there are so many good extensions available that make OpenCart even more complete. Below we list the most important ones:
OpenCart customization
Open Web Creations also offers customization for the realization of new functionalities on your website. Based on the wishes and requirements we can build customized functionalities, solutions, programs and systems. The solution can consist of a fully automated system, a small program, a functionality, a script, etc. It is also possible that there is already a similar solution (script, program or software) that we can adapt and customize.
You can view our self-developed extension here in our OpenCart webshop.