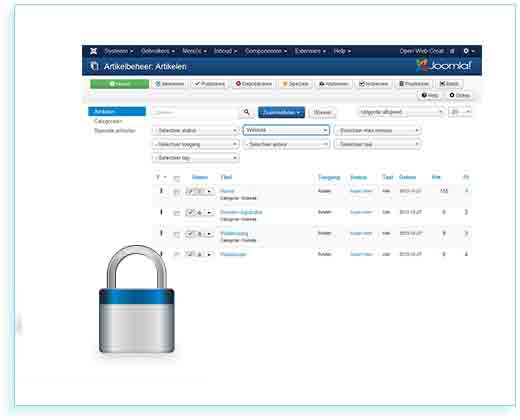 Generating a website without using a Content Management System (CMS) is hardly done anymore. As a website owner, you can customize things like texts and photos at any time with CMS. By regularly updating your website, it will stay up to date.
Benefits
Joomla and WordPress are popular Open Soure CMS packages for websites and OpenCart for webshops. An Open Source package therefore has its advantages.
Free to obtain
Open Source CMS software is freely available on the Internet. You do not have to pay an annual license fee. Also, many templates are available, free or charged, to provide your website with a professional look.
Good quality
Around the world, many developers are involved in the development of Open Source CMS packages. This increases the functionality and ensures quality. After all, errors are quickly found and resolved.
Favorable Price
Engineers have already developed a lot for the Open Source packages, so for many wishes, the wheel does not need to be reinvented and it's only a matter of implementing the software instead of developing. This saves a lot of costs, so you can buy a lot of software for a small amount.
Freedom of choice
Using an Open Source package makes it very easy to switch to another web design company. Any professional web design company may employ one or more people with knowledge of these Open Source packages.
Also we can customize and/or maintain Joomla, WordPress or OpenCart websites.